Shopping Cart
Your Cart is Empty
There was an error with PayPal
Click here to try again
Thank you for your business!
You should be receiving an order confirmation from Paypal shortly.
Exit Shopping Cart
Its been a long week and quite productive. Busy is always better than not busy. Especially when it means I will be able to pay it forward. Speaking of which, After this weeks orders I will be able to make my first batch of cupcakes for donation to a street person with a sign. I know full well that some of them are in the street by choice, but there are some that are actually in a state of despair. These are the situations I think we can all do our part to make an impact. And with your purchases I am able to do so. I am appreciative for the support from "Ballers on a Budget' group. 
I cant wait till next week when I go up and explain to a despair person the oppertunity I will give them. I know its not much.. But every little bit helps. Well on the plus side I suppose the word will get out and I will be busier than ever.. which of course will trickle downward and I will be able to donate even more cupcakes... Its a positive cycle. A win win situation.

And Izzycakes will be the best bakery in Houston. Offering the best in moist custom fondant cakes. So If you would like to donate, please do so through our donate button. Donate as much or as little as you like. Or you can place an order.

thanks for the support!

I was passing a homeless couple on TC Jester/1960 the other day.. And it just breaks my heart to see people like that. In such despair they have to get a sign and ask for help. I was overcome by emotion and thought about how I could help.
After much thought I decided I would set up a fund. For every order I will donate $2.00 into it.
I'm not gonna just drive up to these ppl and just hand it out, but
I will hand them 2 dozen cupcakes for them to sell and keep the profits. This way they will feel a sense of self worth.
I will also put a donation button on my website so anyone can help contribute. A lot of these people are out of work or displaced veterans that have been forgotten. So once I get enough to cover supplies I will donate my first 2 dozen cupcakes.So stay tuned for updates! Pay it forward and go to my page and donate and see how you can make a difference!
#give them purpose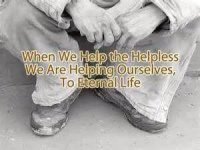 /